WINTER'S KISS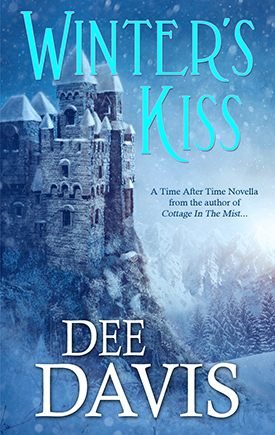 Time After Time Series, Book 2
July 2020, Pocito Press
Now that the overbearing men in her family are gone, Ailis Davidson sees the chance to right her family's many wrongs and bring peace to the valley she loves. The only problem is that someone wants her dead.
Ranald Macqueen has lived his life brandishing a sword for others. Now on the eve of his greatest triumph, serving as guard for his king, a wee fairy of a woman has interrupted those plans with the need of his protection.
As Ailis and Ranald fight against an unknown enemy, they are drawn together by a powerful connection. A love that promises something greater than either of them has ever imagined. But before they can have a chance at true happiness—they have to survive.
"With exciting action, heart-pounding romance, and a sexy Highland hero, Winter's Kiss is Dee Davis at her best!"
~ New York Times bestselling author J. Kenner
Ailis Davidson's horse shied and snorted as a shadow separated itself from the gloom of the sheltering trees. Then, with cries like banshees, men on horses crashed from the winter-bare vegetation in front of them, claymores raised as they charged.
Metal clashed against metal as her entered the fray. Jeane, her maid, screamed and Ailis drew her dirk, wishing she had a better weapon. The tiny knife was not meant to hold sway against men with swords.
Her protectors surged forward. In a panic Jeane kneed her horse, and instead of pulling away from danger, charged directly into it. Ailis cried out, but it was too late. One of their attackers sliced through the maid with his claymore. Bile flooded Ailis's throat as Jeane fell to the ground, her lifeless body trampled beneath the hooves of the fighting men.
A large man separated himself from the fight, his dark eyes locking with hers as he rode toward her, his sword arm raised high. Fear lanced through her as she tried to turn her horse. But the mare was panicked, rearing up to paw the air, eyes wild, the animal's heated breath forming white mist in the cold air.
The man moved closer, bloodlust shining in his eyes. Ailis yanked the reins, trying for control, but the mare would have none of it; instead, seeming determined to escape the melee sans rider. With a powerful leap, the horse sent Ailis flying. She slammed into the ground at the foot of a rowan tree, the low-hanging branches momentarily thwarting her attacker's approach.
Fighting a wave of dizziness, she struggled to her feet, ignoring the pain as she sprinted deeper into the cover of the forest. She could hear the man and his horse crashing through the brush behind her. Fear clawed at her, compelling her to run harder—branches slapping at her face as thorns tore her garments and scratched her arms.
Excerpt from WINTER'S KISS by Dee Davis, Copyright ©2020 by Dee Davis. All rights reserved. Reprint only with permission from author. Please contact dee@deedavis.com.