Everything In Its Time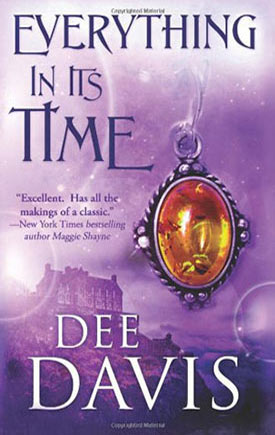 Time After Time Series, Book 1
Berkely Publishing, Pocito Press
In paperback (2013), audio (2013) and e-book (2011)
Original paperback, 2000
An earring, a murder, a legend...
Katherine St. Claire has never forgotten the passionate night she shared with a stranger while staying at a castle hotel called Duncreag. He even haunts her dreams. Tired of loving "Fantasy Man", as her brother Jeff refers to him, she decides to go back to Duncreag in search, literally, of the man of her dreams.
Iain Mackintosh wears the cairngorm earring of the only woman he will ever love. Eight long years ago she came to him in the night like a vision. News of his father's death brings Iain home to Duncreag where he finds himself questioning the circumstances surrounding his father's demise and wishing for the woman his cousin Ranald is convinced is a fairy.
Iain and Katherine arrive at Duncreag each longing to find the other. There is however a seemingly insurmountable problem. A five hundred and thirty-year barrier separates them. What follows is the story of a love so powerful it crosses the boundaries of time. Complicated by murder and abduction in the fifteenth century their love will be tested even after they finally reunite. Only Jeff's twentieth century discovery of events from the past can save them.
"In a stunning debut…Dee Davis has penned a classic tale of soulmates who defy the boundaries of time. Definitely a keeper!"
~ Romantic Times - 4 1/2 Stars, RT Top Pick
"WOW! WOW! WOW! Dee Davis has outdone herself with this novel! I'm hoping a book club will put it out in hard back so I may have a life time copy! Yes, it is that wonderful! This is highly recommended reading so be sure to either pre-order a copy NOW or have your eyes pealed on the bookstore shelves in early July! This story is a dream come true!"
~ Huntress Book Reviews, 4 stars
"Dee Davis' first novel is a delightfully intelligent story mixing the present day with fifteenth-century Scotland, offering readers a steamy love story wrapped in a beautifully interwoven plot. Time travel romance doesn't get much better than this."
~ The Romance Reader, Four Hearts
Duncreag, Scotland
Iain sat up, staring at the door connecting his chamber with hers. She was gone. He had pretended to sleep, but it had taken all of his willpower to keep from reaching for her as she moved away. Now, he sat in frustration, staring at the closed door. He wanted her still. He felt his manhood stir and tighten. Remembering the passion of last night, he closed his eyes, savoring the memory. He had been her first.
That was why he had pretended to sleep, allowing her to leave. He had wanted to give her time to adjust to their joining. With a groan, he realized that perhaps he had been wrong. Now was not the time to be apart. Last night had been more than a bedding. It had been a pledge. They belonged to each other as surely as if they were wed. He smiled a little at the turn of his thoughts. He had not considered himself a romantic man. Experience had left him wary and cynical. Suddenly, he knew that he must not lose what he had found last night. He could not let her go.
His mind made up, he rose from the bed and hurried to the connecting door. It swung open on quiet hinges as he strode into the chamber. The light was brighter now, the first pale rays of sunshine washing over the empty bed. He stood there, unable to move. Empty… it was empty. He quickly scanned the chamber. Where was she? He tried to pull open the door leading from the chamber into the passageway. It held fast. His brain finally registered the fact that the bar on the inside of the door was firmly locked in place. Frustrated and strangely alarmed, he returned to his chamber. Was it a dream then? His heart slammed painfully in his chest and he felt his body tighten in fear. Surely not. It had felt real. No -- it was real.
He frantically pulled the bed coverings aside. In the center of the mattress he saw a small brownish stain. Blood -- it must be her blood. She had been a maiden. He felt a rush of triumph and an overwhelming sense of tenderness. But the feelings faded as he thought about the bolted door. There was no other way to leave the chamber, and real people didn't disappear into thin air.
With a frustrated gesture, he pushed his hair out of his face. She had to be real. He couldn't begin to believe otherwise. He didn't know where she had gone, but that no longer mattered. He would find her. He had to. In one night, with one act, she had irrevocably become his world. He sat on the bed, running his hands over the mattress, searching for an indentation, traces of her warmth, something that proved she was real. His hand stopped, closing around something small and cold. He held it up, turning it in the strengthening light. It was a stone of some kind, hanging on a small golden circle. The smoky amber crystal glimmered in a shaft of sunlight. He examined it closely. The workmanship was fine. He flicked the gold loop with his finger and was surprised when it opened. He smiled with recognition. An earring.
Her earring.
She was real.
***
The sunlight danced upon the counterpane as it filtered in through the bedroom window. Katherine woke groggily, turning to shut off the incessant buzzing of her travel alarm. She lay for a moment in sleepy silence. She felt stiff and a little sore and for a moment wondered why. Then, with a rush, memory flooded back. The other room. The stranger. No, she thought, hardly a stranger. She had never known anyone more intimately. She was and always would be a part of him. She had given him something she would never, could never, give again.
She marveled at the realization that she wasn't sorry. She should have been, but she wasn't. Even now, safely ensconced in her own room, she had to admit there was a rightness about it that couldn't be denied. It struck her that she was ashamed of her hasty exit from his room. She owed him and herself more than that. She got out of bed, marched resolutely to the connecting door, and before she had time to chicken out, pushed it open and walked into his room. She stopped, confused. It wasn't his room at all. It wasn't even a bedroom. It was a bathroom, and a small one at that. With a frown, she walked back into her bedroom, forcing herself to take a good look at it.
The window was deep, but the glass was plain and it was definitely not set in an arch. Against the adjacent wall, in the corner, there was a battered wingback chair and a rusty radiator. The plastered wall behind them showed no signs of ever having held a fireplace. The bed was tiny, about the same size as an American twin bed. Katherine sank to the floor, her hands absently closing into the nap of the carpet.
Carpet.
Her head whirled. She looked frantically for another door. There were only two. One she recognized immediately as the door to the hallway, as it sported the expected sheet of paper enumerating check-in and check-out times, along with various other hotel policies. The other, the one she had just opened, was small and unadorned. And it was flush to the wall, not set in an archway.
A dream. It had all been a dream. The most wonderful moment of her life was an illusion. Pain seared through her. No. Impossible. It had been so real. She felt bereft, as if someone she loved deeply had died. No. She curled on the floor, tears streaming down her cheeks. No, no, no. She huddled there for what seemed an eternity, until there were no more tears. A dream, all a dream. Her heart still cried no, but her mind, searching for logical conclusions, had already accepted it. There was no other explanation. It had been a dream.
Katherine sucked in a ragged breath and wiped angrily at her tears. She was behaving like a fool. There was no sense in crying over a fantasy. She stood up, automatically beginning to braid her heavy hair. She frowned, instinctively recognizing that something felt wrong. She raised both hands to her ears, checking for her earrings. One was missing. With a sigh, she headed to the bed to look for it. As she moved to pull back the covers, her nightgown slid off her shoulder, the silky blue fabric dropping almost to her elbow.
With a mumbled curse, she reached for the recalcitrant gown, then stopped short, sinking down onto the bed, staring down at herself. She sucked in a breath and held it. Stunned, her eyes traced the line of her shoulder to the curve of her bare breast. There, on the soft peak, was a small reddish mark, a mark that surely had been left by a lover...
Excerpt from EVERYTHING IN ITS TIME by Dee Davis, Copyright ©2000 by Dee Davis. All rights reserved. Reprint only with permission from author. Please contact dee@deedavis.com.