Set-Up in Soho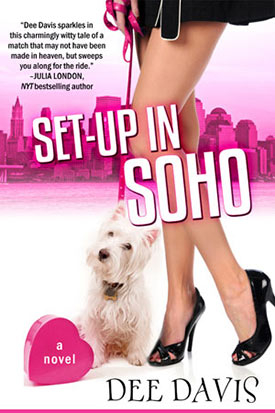 The Matchmaker Chronicles, Book 2
St. Martin's Griffin Press, Pocito Press
In paperback (2009) and e-book (2013)
The Matchmaker Chronicles continue…
When Andrea Sevalas' long time boyfriend announces he's seeing someone else, Andi's thrown for a loop—well, actually, down a cellar.  Head throbbing and nose out of joint, she's rescued by one of New York's finest – attorney's that is.  Ethan McCay --  the upper east side heir to the kingdom of Manhattan.  But Andi isn't interested in princes.  At least not the uptown variety.  She's a downtown girl with no time for Park Avenue royalty.
So what's a fairy godmother supposed to do?   Well, if she's Andi's Aunt Althea (the infamous Manhattan matchmaker) a little manipulation is in order.   After all, even Cinderella needed a little prodding to go to the ball.  And with a little help from her friends, Althea's plan goes charmingly – until the clock strikes midnight and the truth is revealed.
Certain that she's been betrayed by the people she trusted the most, Andi runs for the safety of SoHo.  But matchmakers don't give up that easily, and with Althea at the helm, Andi will discover that love comes in all kinds of packages.  And that sometimes all it takes to recognize the fact, is opening your heart to the possibility – that and a fairly substantial shove from your not so fairy godmother.
"Peppered with funny moments and occasional insight (especially regarding New York's food scene), Andi's story is as entertaining…as an episode of Gossip Girl or an issue of US Weekly."
~ Publishers Weekly
"Ms. Davis paints her brilliantly drawn characters with bold strokes, and her rich narrative and appreciation of Manhattan is a joy to behold. SET UP IN SHOHO is smart, sexy and lots and lots of fun."
~ Betty Cox, ReaderToReader.com
CHAPTER 1
"Don't you think that dress is a little—revealing?"   Althea Sevalas stared down the end of her nose at me, her withering glance serving as simultaneous judge, jury and executioner.  It was the quintessential mother's condemnation, except that Althea isn't my mother.  She's my aunt.
"It's alice + olive," I said, as if that explained everything.  "From Bergdorf's." 
 "Well, I don't care where you got it,  it's practically obscene," Althea sighed, sipping her martini.  "You might as well take out a personal ad in a gentlemen's magazine.  I can almost see your—"
"But you can't," I interrupted, flipping up the hem of the red silk bubble dress to reveal a pair of black boyshorts.  "See, all covered."
"Andrea," Althea protested. 
I tried not to smile, but really her look was priceless. "What?  You thought I was pulling a Britney?"  Okay, so I was probably overplaying my hand, but can you blame me?  The dress was gorgeous.  And short.  But hey, it's the style.  And I say if you've got it—well, you know the drill.
"I don't know, Andi,"  Vanessa Carlson laughed, emerging from the party's fray to join us, "flashing everyone might have livened things up a bit."  
Vanessa and my aunt used to work together, but Vanessa—showing a great deal of wisdom, I might add—had decided to strike out on her own.  The move created a bit of a rivalry, but then a little competition never hurt anyone.  
"Poor Stephen probably wasn't expecting his first showing to be such a staid affair," Vanessa said, taking a glass of champagne from the silver tray of a passing waiter.  "But then my mother doesn't know how to do anything without an excess of decorum."
Actually Anna Carlson was the epitome of Upper East Side.   Everything she did simply reeked of money and propriety.  A combination I can do without, thank you very much.  Although, considering my lineage, it's kind of hard to avoid.  Anyway, despite her pre-Lagerfeld Chanel tendencies, she has a good heart—and a checkbook that guarantees that anything she attempts will be a fabulous success.
All of which boded well for Stephen's opening, even if the party was a bit dull.   Most of Manhattan's elite had made their way to The Gallery in SoHo and judging from the red dots decorating the paintings' placards, they were in a buying mood. 
Stephen Hobbs is an abstract artist with a lot of talent and the sheer luck to have married into one of Manhattan's royal families.  Not that his wasn't a love match.   Cybil Baranski Hobbs was crazy for her husband.  And despite Vanessa and Althea's sticking their noses into it (did I mention that they're matchmakers?) love prevailed and Cybil and Stephen were sublimely happy.
This was his first official showing.  A social coming out, if you will. 
"Well, I think the show is a rousing success," Althea said, echoing my conclusion if not the reasoning behind it.  "Although Stephen looks a bit mystified by the whole thing."
"He's not used to all the attention," I said, grabbing a canapé from a passing tray.   Shrimp in puff pastry.  Pedestrian.  But edible.  It'd be better with a little cilantro and maybe a hint of cumin. 
I probably should insert here that I'm a bonafide foodie, complete with a successful cable show called What's Cooking in the City.  The concept is Martha Stewart meets Entertainment Tonight.  Dishes from Manhattan's finest restaurants served up along side gossip about who's eating where and with whom.  Some of the biggest deals in Manhattan are struck over the perfect osso buco.  And more than one tiramisu has been witness to illicit affairs of the heart.  Inquiring minds and all that, but I digress…
"I'll admit Stephen's a bit rough around the edges," Vanessa was saying.  "But he's a good man.  And he and Cybil belong together."
"Like you and Mark," Althea smiled.   Mark Grayson was considered by some the catch of the century.  And, quite understandably, he'd fallen for Vanessa.  But she'd been a bit slow to read the memo and as is often the case, things sort of got all mixed up.  But in the end true love, as usual, had won the day, and they'd found their way together again.
Althea, naturally, was taking all the credit.  But I suspect they'd have managed just fine without her interference.   Mark was a take no prisoners kind of guy.  Not the sort to give up, even after a major set-back.  
"So where's Dillon?" Vanessa asked.
"Here somewhere," I waved at the room with my champagne glass.  My third.  Staid parties call for serious libationary intervention.  
"He's over there," Althea said, disapproval dripping from her voice like melting ice sculptures.  "Flirting with Diana Merreck."
Dillon Alexander is my boyfriend.  (Although saying it like that makes me sound all of  sixteen.)  We've been semi-living together for a couple of years.   I say 'semi' because, although we invariably end up at staying together at one of our apartments, despite pressure from Dillon, I just haven't been able to commit to the idea of giving up my own personal space. 
"He always flirts," I said, with a shrug.  "It doesn't mean anything."   Truly it didn't.  Flirting was like breathing with Dillon.  It was part of what I loved about him.   Althea just liked the idea of getting in a dig.  She can't stand Dillon.  Thinks he isn't good enough for me.  Which translates to 'not of the right breeding.'  Dillon's California.  His money's new, which in certain circles makes it completely suspect.   And, according to Althea, he's got no ambition.  Which is totally untrue.  He's just got his own ideas about how to do things.   
Which I find admirable. 
Althea not so much so.
"It's not the first time I've seen him with her," she sniffed, taking a swig of her martini.  Well, swig probably isn't the right word.  Althea is nothing if not lady-like.  Still, she can put away alcohol with the best of them, especially if it's served with olives.  "And the truth is, I think you deserve better."
"Old song, same verse," I reminded her, wishing suddenly I hadn't felt so strongly about supporting Stephen.  It's not like he needed me and this was certainly not my idea of a good time.
"I just think you need to open your eyes and recognize the truth.  Dillon isn't the marrying kind."  She scowled at me over the rim of her glass, arched eyebrows zooming up into her hairline.
"You don't know that.  And besides, maybe I'm not the marrying type either."  We stood toe to toe, voices rising with each word.   I knew better than to let her draw me into battle, but the champagne had loosened my tongue—and dulled my brain.
"Of course you want to get married, Andrea.  You just have to find the right person.  And Dillon simply isn't the right one."
"And I suppose you have someone in mind?  Someone you'd like to fix me up with?"   It was an old bone of contention.  Althea was constantly trying to set me up with what she considered the perfect suitor.
Althea opened her mouth to respond, but Vanessa—God bless her—was faster.  "Isn't that Bethany Parks over there?  With Michael Stone,"  she inserted, neatly turning the conversation away from more dangerous ground.  "I didn't know they were dating."
"This is the first," I said.  
Bethany and I had been friends since our NYU days.  We'd even roomed together for a while.  Which is a huge undertaking since she owns enough couture to open a Madison Avenue boutique.  She needs one closet just for her shoes.  Believe me when I say that Bethany lives by the adage 'dress for success'. 
She's the kind of woman who takes the idea of Meals on Heels literally – delivering food to the apartment-bound elderly decked in her favorite Jimmy Choos.  The idea of her tottering up five flights of stairs with a stack of styrofoam containers would have been laughable except for the humbling fact that she was also the kind of person who always put others first. 
Her date with Michael had come as a surprise, since she wasn't usually interested in trust fund types.  Not that there was anything wrong with Michael.  He was just a bit stuffy for my taste.  And I'd thought for Bethany's. 
"Actually," Althea said, shooting me a triumphant glance.  "I introduced them."  So much for Vanessa's diversion.
"You set up my best friend?"  I sputtered, trying to hang onto some semblance of composure.  To say that I disapprove of Althea's meddling profession would be an understatement.  Marriage, and love for that matter, is not something that can be manipulated by facts and figures.   It's a basic principle of science that like does not attract like.  And making matches based on financial benefits and social commonalities is like throwing mud in the face of thousands of years of romantic tradition.
Not that I'm a romantic.  Exactly.  I just don't believe that people need intervention to find a relationship. 
And I sure as hell didn't want Althea meddling in my friends' lives.  Her manipulations had already cost me my mother.  And I was still dealing with the fallout.
"I thought we had an agreement," I said, draining the last of my champagne.
"We had nothing of the sort.  Besides, they're perfect for each other.  And Bethany was just lamenting the fact that she wasn't meeting the right kinds of men."
"So you stepped in and made a match?"  I swallowed, trying not to choke on my indignation. 
"Not officially.  I mean, Michael isn't a client.  He's more of a friend.  And I knew he was looking for the right someone, and Bethany's perfect.  So I introduced them."
"It's still a set-up.  And when it goes south, I'll have to pick up the pieces."
"Who's to say it won't work out?" Vanessa asked.  "I mean, Althea does know what she's doing.  Michael's a good man."
"Spoken like a true matchmaker." I shrugged.  "And I'm not saying Michael isn't good enough for Bethany.   I don't even know him really except by reputation."
"Well, his background is impeccable," Althea assured me.
"That's just the point.  Bethany's not going out with his background.  She's going out with him. And wouldn't it have been better if they could have found each other on their own?"  I sighed, realizing the futility of my words almost before I got them out.  " Never mind.  Stupid question considering present company."
"Of course it's not stupid," Vanessa soothed.  "It would be nice if the right people could find each other.  But the truth is that it usually doesn't happen that way.  And so we're here to help."
I sucked in a breath, and grabbed another glass of champagne.  Vanessa was a good person and I really wasn't trying to insult her.   I just didn't believe in matchmaking.  Particularly when it involved Althea and my friends.
"I just wish you'd keep your nose out of my life, Althea."
"But it isn't your life, Andrea.  It's Bethany's."
"She's my friend.  And you're my aunt.  Which means her love life should have been off limits."
"You're being ridiculous.   Besides, it's not like I forced it on her," Althea said.
"She came to you?"  I asked, surprised.  Bethany knew my feelings about Althea's profession, and I'd thought she shared them.
"Not exactly," Althea said, not looking the slightest bit repentant.  "I called her.   But it didn't take much convincing."
"So you reached out to her, even though you knew how I felt?"
"Like I said, it wasn't about you."
"No.  It never is, is it?"   I sucked down more champagne and with a tight smile excused myself.  I knew better than to get into it with Althea.  There was no winning.   I should never have engaged in the first place.  But setting Bethany up crossed a line.  An arbitrary one to be sure.  But still a boundary.
Not that Althea would recognize one of those if it hit her in the face.  
Anyway, there you have it.  My wonderful dysfunctional life.
But it is what it is.  And except for Bethany's seeming defection, I wasn't going to let it get to me.   I had my own life separate from Althea and honestly our worlds only intersected at the odd social event.  Okay, more than that, but the point is that I had broken free of all that Althea stands for years ago, and one little go round was not going to set me back.
I stopped to exchange pleasantries with a couple of old friends, and to sign an autograph for a fan (which was somewhat surprising since the ladies who lunch hardly know where their ovens are, let alone how to tune in the Gourmet Channel.)  Still the woman's gushing praise went a long way toward raising my spirits.  And what that didn't accomplish, the rest of my champagne did.   
I accepted a refill from a passing waiter and ignored the urge to confront Bethany with her betrayal.   Best to let it wait until tomorrow.  Besides, she really did look like she was having a fabulous time, and it's not like I didn't want her to be happy.   So instead, I went to congratulate the star of the evening, who was looking a bit dumbstruck by it all.
"It's a fabulous turn-out," I said, waving at the glittering crowd.  "And it looks like sales are brisk."
"I have no idea if they're buying because they actually like my work or if it's just fear of Anna Carlson," Stephen laughed.  "But I'll take it either way.  And the gallery has asked if I can extend the show."
"Well, I'd say that's an indication that the success is all yours.   I mean, what's not to love?"   And I meant it.  Stephen's work speaks to me.
"I don't suppose you'd be willing to sell Frenetic on Fifth?"  Cybil said, turning from another conversation to join us.  "I've had at least four offers for it."
"Not a chance.  I love that painting." 
Stephen once offered me a painting and I'd chosen Frenetic on Fifth.  And, because I think it's one of his best, I'd offered to let him have it back for the show – strictly on loan.  Which I suppose, in a weird kind of way, makes me an original patroness of the soon to be famous Stephen Hobbs.  (Okay, maybe patroness is stretching it a bit too far.  But I was definitely an early fan.) 
"Never hurts to ask," Cybil continued.  "I suspect you could get six figures."
"Well, kudos to Stephen.  But no dice."  I snagged another canapé.  This one brioche topped with goat cheese and what appeared to be a bit of sun dried tomato, although it better resembled damp cardboard.   Fresh ingredients are the key to any good dish.  And cutting corners is inexcusable.   Especially when playing at this level.
"Don't say anything to Anna," Cybil said, eyeing the napkin where I'd discreetly folded the food.  "She's used the same caterer for years, and Vanessa says she won't consider anyone else."
"I'd never say anything," I protested.  "Besides it's not bad.  Just a bit pedestrian.  And I'm overly critical anyway."
"You're an expert," Stephen said, loyally.  "And actually, I agree."
"Me, too," Cybil laughed, "but we'll keep it on the QT."
"Hey beautiful."  Two arms encircled my waist as the words tickled my ears.  "I'd wondered where you'd gotten to."
As more people stepped in to congratulate Stephen, I turned to smile up at Dillon.  "Just mingling.  How about you?  Had enough of this party?"
"Hey, I'd had enough before I ever got here."
"You should have been drinking champagne."  I held up my half empty glass as proof.  "It has a way of making everything look rosy."
"Even Althea?"  he queried.  "I saw you talking with her and Vanessa."
"Couldn't be helped.   She's hard to avoid.  And besides, she wanted to gloat.   Seems Bethany's gone over to the dark side."
"Dating Michael Stone, you mean?  I always thought he was a bit too pompous for my taste."
"Well, you think anyone who lives above fifty-first is pompous."
"True.  But you agree with me."
"For the most part."  I reached up to brush a wayward curl out of his eye.  Dillon has the most glorious hair.  The kind that God really should have given to a woman. But for some reason it never happens that way.  Like eyelashes.  Have you ever noticed that guys often have the most amazing eyelashes?  It really isn't fair.  "Anyway," I continued.  "The relevant point here is that Althea set Bethany up."
"With Michael?"  Dillon frowned.  "I suppose it makes sense.   But I thought your friends were off limits."
"Apparently the rules have changed.  Only no one bothered to tell me."
"Well, there's no way it'll last."
"Exactly what I said.  Anyway, what's done is done."
"Sounds like you're taking it all rather well."
"I wasn't.  But as I said, I've had a few of these to dull my indignation," I shook my glass again for emphasis.  "Besides Bethany is a big girl.  And if she wants Althea to set her up, I suppose it's not really any of my business.   It certainly beats the hell out of Althea trying to set me up."
"I know she doesn't like me," Dillon said, still frowning.  "But I really don't like her trolling for a replacement."
"She hasn't tried anything in ages.   Although I'm sure she would if she could.  You should have heard what she was saying about you."
"Anything I should be worrying about?"  His expression was teasing but there was something in his voice that gave me a moment's pause.
"Is there reason to worry?"  I kept my voice purposefully light, but my heart had stuttered to a stop.
"Of course not," he brushed a kiss across my forehead, but I wasn't convinced.  "So what did the old battleaxe have to say?"
"Just that you were spending an unusual amount of time flirting with Diana Merreck."  I laughed, but the resulting sound wasn't all that cheerful.   I suppose, in part, because of all the people Dillon could have chosen to flirt with, Diana was the absolute worst.   She stood for everything I hated about Manhattan society—a social predator who ranked her friends according to their breeding.  She lived to judge others, and believe me most of them were found wanting.   To say she's a piece of work, is an understatement, and the idea of Dillon spending time with her quite frankly made me sick to my stomach.
"I always flirt," Dillon said with a shrug.  "You know that."
"That's what I told Althea, actually.   But she implied she'd seen you together on more than one occasion."  The last bit just sort of slipped out on its own, sounding much more accusatory than I'd intended.
"Really."  There was definitely an underlying note in his voice.  Not panic exactly but something very closely kin to it. 
"Dillon, what is it?"
"Nothing," he said with what I considered a forced smile.
"Oh come on," I said, stomach churning, "you don't even like champagne and you just drained your glass."
"There's nothing.  I swear.  You're just letting Althea get to you."
"No.  I'm not."  I shook my head, my heart threatening to leap right through my dress.  "I know you too well.  Something's up.  So spill it."
"I don't think now is the right time.  Why don't we head home and…"  he started, but I was too wound up to let it go.
"Dillon.  Whatever it is, just say it."
 "I…" he started and then stopped.  For a moment he just stared at his feet, then with a sigh, he lifted his head, the look of regret on his face making my stomach do three sixties.   "Look, I didn't mean for you to find out this way. "
"Find out what?"  I snapped, working hard to keep my tone civil.  It's just that I had the sudden impression that my carefully ordered life was about to spiral completely out of control.
His hands slid to my arms, palms massaging small circles as if somehow his touching me was going to make everything okay.  And quite frankly, five minutes ago, I'd have agreed with the idea.  But that was then and...
"I have been seeing Diana," he said finally.
I clenched my fists, nails digging into my palms as I struggled to comprehend the finality of those five little words.  It couldn't be true.  It just couldn't.  This was Dillon we were talking about. 
My Dillon.      
We might not have exchanged rings, but we were definitely committed.  This was the man who knew me better than anyone.  My lover, my friend.  The person I trusted most in all the world.  I'd shared things with Dillon I'd never told anyone.  Not even Bethany.  We laughed at the same jokes, loved the same movies, shared a passion for Manhattan and for each other.  Or at least that's what I'd believed until two minutes ago.
"It wasn't like I planned it, Andi," Dillon was saying, his words shredding what was left of my heart.  "I mean initially, I was just trying to help.  She's throwing a party for a friend and she wants to have it at The Plumm.  I have an in there and so she asked if I could arrange things."
I sucked in a breath, fighting tears as I swallowed the retort forming in my head.   I needed to take the high road.  I needed to hang onto some semblance of normalcy. 
"So anyway," he shifted uncomfortably, his hands dropping to his sides.  "One thing led to another…"
"And you were having a private party for two?"  Okay, so maybe I'm not so good at high roading.  But it beat the alternative—completely and utterly falling apart.
"Yeah.  But it's not like I was trying to hurt you." He actually sounded apologetic.  As if in saying the last bit, he'd somehow make everything all right.
"Actually, I'm guessing I wasn't really on your mind at all in the moment."  The first tears trickled down my cheeks, even as I struggled for composure. "So, was it just the once?"  It was a stupid question, but you try being erudite when your boyfriend is telling you he's been schtooping someone you loathe.
"No," He shook his head.  "But it's more than just sex.  At least I think it is." 
Oh my God.   Dillon hadn't just cheated on me.  He'd gone and fallen for the woman.  My gut clinched as I rejected the notion.  This couldn't be happening.  Not here.  Not to me.  I felt as if I'd blundered into some kind of alternate world.  One where Bethany needed a matchmaker and Dillon had the hots for Diana Merreck.  And lest you think I'm being judgmental, you have to understand that Diana's all Hermes and pearls, while Dillon is $300 vodka, and partying until dawn.   Like old money and new money—they don't mix. 
"So what?" I said, fighting to breathe normally, to keep some semblance of calm.  "You're dumping me for Diana Merreck?"  My heart had stopped beating all together now.  Although I suppose that's impossible since clearly I was still standing there listening to Dillon destroy my life.
"No.  I mean, yes.  Oh God, Andi, I don't know."  Again with the adorable confused look.  Everything about him was so familiar.  So much a part of me.  And yet, it was as if I was listening to a total stranger.  Someone I barely knew.
"Well you can't have it both ways."  The words came out on a strangled whisper, and I quickly downed the rest of my champagne in a vain attempt to find my balance.
"Why not?" he asked, his hair flopping onto his forehead again.  To my credit, I resisted the urge to yank it out of his head.  "You've always talked about our having a modern relationship."
"Yeah, but I didn't mean three ways," I hissed through clinched teeth, anger finally showing its wonderfully reinvigorating head.  "If you think you're going to have your cake and eat it, too, you're out of your mind."
"I see," he said, looking defiant and apologetic all at the same time.  
"So that's it?  Just like that it's over?"  I half expected Ashton Kutcher to jump out and tell me I'd been punked.   Dillon wasn't seeing Diana Merreck.  It was all just a big joke.  With me falling for it lock, stock and roasting pan.
"I don't want it to be.   But I can't quit seeing her.   I just can't."
So this wasn't a joke.  Or some God awful dream.  It was real.   Dillon was seeing someone else.   He was seeing Diana Merreck.  I'd trusted him with my heart and he'd made a complete and utter fool of me.
It was over.   Just like that.  Right here.   Right now.   In the middle of a party in front of everyone we knew. 
"Fine," I said, brushing angrily at my tears.  I'd be damned if I'd let him be the one to cast the death blow.  "Then let's just end it now." 
Without giving him a chance to respond, I turned and walked away with as much dignity as I could muster considering the circumstances and the fact that I was wearing four inch heels.  Okay, there was also the small matter of a little too much champagne.  But hey, I was thankful for  the insulation.
I swallowed my tears, smiled graciously at several well-wishers, ducked a conversation with a concerned looking Vanessa and even managed an air kiss for Kitty Wheeler.  Which tells you right there how upset I was.  Normally, I'd have avoided her like the plague.  Besides being generally annoying, she's Diana Merreck's best friend.
Three minutes later and I was out on the sidewalk, hand extended for a cab.  Except of course there wasn't one in sight.  So I turned and started walking, reaction setting in, my body shaking as the tears began to fall in earnest.   I still couldn't comprehend the enormity of what had happened.  In less than two minutes my life had imploded.  Everything I'd believed to be true proving false. 
Tears dripped off the end of my nose and I swiped at them, trying to keep my pain to myself.  Fortunately, it wasn't that difficult of a task.  In Manhattan, no one really gives a damn.  Which meant my break-down was going pretty much unnoticed.  Except for a guy in a box on an abandoned stoop. 
"Hey, lady," he called from his cardboard studio.  "It can't be that bad."
I shook my head in answer, his words triggering the floodgates.  Tears turned to sobs, and I closed my eyes, struggling for at least some semblance of composure.  I could fall apart later.  First, I had to get home.  
I sucked in a breath, squared my shoulders and moved forward, my foot landing on—nothing.
Nothing at all.  
And, with an inverted jackknife worthy of an Olympian diver, I fell, butt first, into the abyss.
Excerpt from SET-UP IN SOHO by Dee Davis, Copyright ©2009 by Dee Davis. All rights reserved. Reprint only with permission from author. Please contact dee@deedavis.com.