The Matchmaker Chronicles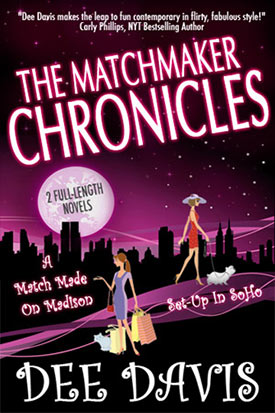 The Matchmaker Chronicles, Box Set
St. Martin's Griffin Press, Pocito Press
E-book, 2014
Original paperbacks 2007, 2009
A little glamour, a little glitz—a little meddling matchmaker. So what's a girl to do? Run for the hills? Head to Bergdorf's? Or maybe accept the fact that sometimes Prince Charming arrives when he's least expected.
Dee Davis's A Match Made on Madison and Set Up in SoHo tied up in a turquoise box with that trademark white bow. All at a special price just for you. Manhattan, moonbeams, and happily ever after… The Matchmaker Chronicles.
A Match Made on Madison:
In an effort to prove she's the top of the heap, Manhattan matchmaker Vanessa Carlson challenges her rival Althea Sevalas to see which of them can score downtown playboy Mark Grayson as a client. Once a winner is crowned, there will be no question as to who rules Manhattan's matrimonial mergers. But emotions often have a will of their own, and Vanessa must learn that love can always be manipulated.
Set Up in SoHo:
When Andrea Sevalas' long time boyfriend announces he's seeing someone else, Andi's Aunt Althea (the infamous Manhattan matchmaker) figures a little manipulation is in order. Things are going charmingly until the truth is revealed. Still, with Althea at the helm, Andi will discover that love comes in all kinds of packages, and that sometimes all it takes to recognize the fact, is opening your heart to the possibility.
"Wonderful characters overflowing with wit, charm and heart."
~ NYT bestselling author J. Kenner