ESCAPE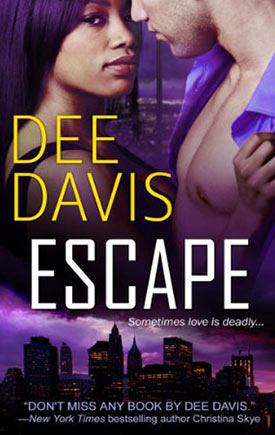 Last Chance Series, Book 3.5
Pocito Press
In e-book, 2013
A Last Chance Novella…
One of the most sought after forensic pathologists in the country, Tracy Braxton is at the top of her game professionally, heading up world renowned Braxton Labs. But on the relationship front, the commitment-phobic Tracy is batting zero. That is until she meets FBI agent Seth Forester.
Seth, an admitted adrenaline junkie, works on some of the FBI's most dangerous cases. And, quite frankly, he's always assumed that any woman in his life would come a distant second to his career. Until he met Tracy.  But when Seth tries to take their relationship to the next level, Tracy refuses to even consider the idea, instead running for the sanctity of her lab.
Angry at himself for falling in love, Seth is determined to drown his sorrows.  But the more he thinks about it, the more convinced he is that they belong together. He heads for her lab, only to find blood on the floor. And so with the clock ticking, he must racing to save the only woman he's ever loved.
"I thought that man was never going to stop talking."  Seth Forester said as they stumbled through the door of Tracy Braxton's apartment, Seth's hands cupping her breasts, his breath hot against her cheek.
"That man," Tracy said, suppressing a smile as Seth pushed her back against the wall, "is the mayor.  And as such, one of the most powerful players in the city."
"Should I be jealous?" Seth asked, his thumbs rubbing heated circles through the sheer lace bodice of her dress.  
"Right," she sighed, shivering as he kissed her neck.  "You've caught me.  I've got my sights set on a septuagenarian." 
"A billionaire septuagenarian," Seth whispered.  "There's a difference."
"Not to me.  I prefer to make my fortune, not marry it."  She tipped back her head as his mouth slanted over hers, his tongue sending fire lacing through her belly.  It was always like this between them.
"Works for me," Seth murmured, as he pushed her skirt up around her thighs, his palm hot against her skin as he slowly stroked the inside of her leg.  She bit her lip, closing her eyes and arching against him, reveling in his touch.
His breath moved the soft curls at her neck, his tongue flicking out to taste the tender skin there, the rhythm matching the movement of his fingers as they circled across the smooth satin of her panties, the friction of material against skin threatening instant explosion.  
She lifted her hips, her entire being centered on the sensations he was evoking and the pleasure she knew that it would bring.   But he pulled back, his slow smile taunting her as she struggled to breathe. "Tell me what you want," he whispered, his voice deepening with his passion.
"You, Seth," she whispered, anticipation coiling inside her, hot and heavy.  "I want you."
Excerpt from ESCAPE by Dee Davis, Copyright ©2013 by Dee Davis. All rights reserved. Reprint only with permission from author. Please contact dee@deedavis.com.