DESPERATE DEEDS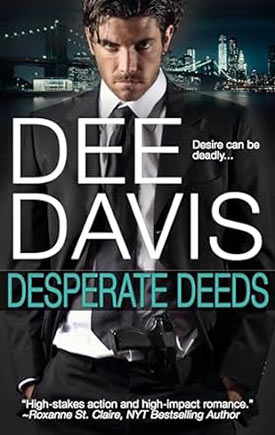 A-Tac Series, Book 3
August 2010, Grand Central Publishing
In paperback and e-book
As the demolitions expert for A-Tac, a black-ops CIA unit masquerading as Ivy League faculty, Tyler Hanson has two great loves: literature and explosives. She lives by the motto "duty first" and doesn't have time for personal attachments . . . until a steamy one-night stand turns into a professional partnership.
BURNED BY BETRAYAL
When Tyler meets Owen Wakefield, a handsome British operative, she seduces him with no intention of ever seeing him again. But then the sexy Brit is brought into A-Tac, and despite Tyler's efforts to keep her distance, she finds herself falling for him. Trusting him.
Owen seems too good to be true—and he is. He's hiding his true motives and identity, and no matter how he feels about Tyler, he can't keep her secrets. One of A-Tac's members has turned traitor and helped terrorists to hijack a shipment of nuclear weapons. As witnesses start dying and evidence starts disappearing, Owen and Tyler must race to find the mole—and prevent a final, cataclysmic act of destruction.
"A thrilling rollercoaster ride of romantic suspense."
~ BookPage
"This series and this author are not to be missed!"
~ The Romance Studio
As the elevator doors slid shut, they moved together with a familiarity that belied the fact that they'd only just met.   It was as if she'd made love to him before.   As if she knew ever inch of him by heart.  His lips were hard, his kiss demanding, his hands moving over her body—teasing, exploring. 
"Are you having second thoughts?" 
"No," she shook her head, her breathing still ragged.  "It's just that I'm usually not into public displays of affection."
 "But we're alone," he said, a twitch of amusement touching the corner of his mouth. 
"On an elevator," she whispered, sotto voice, glancing suspiciously around the paneled space.  "What if there's a security camera?"
"There's not," he soothed.  "I checked when we got on.  Occupational hazard." 
"Oh God," she whispered, her voice thready with desire,  "you're turning me into an exhibitionist.  I thought the English were supposed to be repressed."
"I'm afraid you've been sadly misinformed," he answered, his breath hot against her cheek. 
She nodded, unable to pull together a string of words.  She couldn't remember the last time she'd wanted someone this badly.  It was as if she'd been waiting for him all of her life.  Which was a ridiculous notion, but one that nevertheless, in this moment, seemed oddly  irrefutable. 
  "I want to see you," he whispered, his hands closing around the hem of her camisole.
She smiled and leaned back, lifting her arms and in one fluid movement he stripped away the cotton chemise. 
"Bloody hell," he said, his eyes narrowing as he took in the dark purple bruises that spread across her chest.  
Between her desire and the bourbon, she'd almost forgotten her injuries.  "They're just bruises.  From where the bullets hit the Kevlar.  It could have been much worse."
"And the scar?"  he asked, reaching out to gently trace the jagged line running between her breasts.  
"That's what happens without the vest.  I've been really lucky," she said, resisting the urge to cover herself with her arms.  "Twice."
 "If it helps," he said, his voice still gentle, "I understand."   He pulled off his jacket and shirt, his right shoulder covered with scar tissue. 
"A bomb?" she asked, recognizing the tell tale signs.
"Wrong place.  Wrong time."  He nodded.
"So you were lucky, too," she whispered, splaying her fingers across the damaged skin.
"I'm not sure I can agree with that," he shook his head, his hand covering hers.  "But I'm alive.  And it's moments like this that make me glad of it."
Then he held so still, she could feel their hearts beating together as she reveled in the simple pleasure of connection, the binding of his body to hers.   And for one perfect moment, there was no future and no past.  No expectations.  No responsibilities.  Just the two of them.  Man and woman.  Explosive and elemental. 
It was a fantasy and she knew it.   But that didn't change the power of the act, or the magic of the man.
Excerpt from DESPERATE DEEDS by Dee Davis, Copyright ©2010 by Dee Davis. All rights reserved. Reprint only with permission from author. Please contact dee@deedavis.com.
Books in the A-Tac Series
A-Tac Series Extras