SMP Interviews Dee Davis
A little bit more about Set-Up in SoHo from author Dee Davis:
1. The restaurants of New York play a large role in your characters' lives: Artisinal mac and cheese for comfort food after a break up, Nino's for first dates and lunch meet-ups at Shake Shack, dog in tow. Do the places the characters go in the book hold special resonance for you as a New Yorker?
Almost all the restaurants mentioned in the book are real. And everyone of them is a favorite of mine. It's a way of sharing my view of culinary Manhattan with my readers. Nino's is one of my favorite restaurants in New York. As is Craft, which makes the sweet potato agnolotti that Andi tries to copy for her party.
2. You are an award-winning romance writer. What is your favorite thing about this genre?
There's just something wonderful about a love story. Watching as two people work their way around various obstacles to find each other and build a life together. Besides, I've always been a romantic at heart. I love a happy ending. Cried at five when I didn't get to see Cinderella's wedding on TV. Have watched Love, Actually and the Harry Met Sally more times than I care to admit, and always love a good romantic hero – from Mr. Darcy in Pride and Prejudice to Mr. Big in Sex and the City.
3. You are originally a small town gal; what did moving to New York and writing about it do for you? Can people that don' live in New York still enjoy your novels?
Well, I suppose compared to Manhattan, Austin and Dallas are small towns, but I think that people everywhere are pretty much the same. It's just the package they're dressed up in. Which means that while writing about New York has its own uniqueness, the relationships people have here are the same as the ones you'd find anywhere else. That said, I've wanted to live in Manhattan all my life, and so writing about the city gives me a chance to share my love for NYC with people everywhere. I've always believed books provide a window into other worlds. So I'm letting you in on my Manhattan.
4. In the book, the protagonist hosts a local cooking show. You were also a host of a local cooking show once. What aspects of yourself do you see in Andi, and what aspects of her do you aspire to or admire?
I think all of my characters tend to be, at least in some way, a reflection of parts of myself. I would love to have the opportunities Andi does with her cooking show. If only there'd been a Food Network when I was first starting out. There's something so wonderfully challenging about taking various ingredients and combining them to make something mouthwateringly delicious. My grandmothers were both excellent cooks and I learned from them, very much the way Andi learned from Bernie. And I have to admit, like Andi, I absolutely love trying to recreate a fabulous dish I've eaten somewhere.
5. There are so many interesting locations in the book, most of them real. Does Andi's rooftop garden really exist? What about all the fabulous apartments?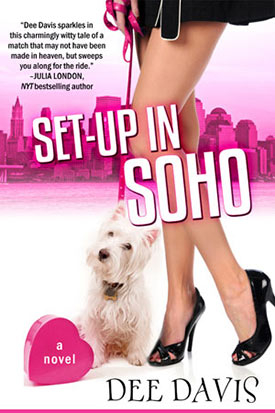 Andi's garden is actually based on a rooftop a friend of ours had in Vienna. It was a wonderful place for nighttime parties. So I just moved it to SoHo for Andi's soiree. But Manhattan is full of hidden surprises. Most people who come here, never get to see what's up above their heads. Just looking out my window, I can see at least eight fabulous gardens and greenhouses. And there's even one 'house' perched atop a building. A little white mecca way above everyone's head. It's a secret world up here. And, man, do I have terrace envy! As to the apartments. Again, they're an amalgamation of all the places I've seen and/or lived in. Real estate is sort of an obsession with people in Manhattan. But Althea's co-op on Fifth Avenue really exists. As do the hawks, Pale Male and Lola, mentioned in the book.