LETHAL INTENT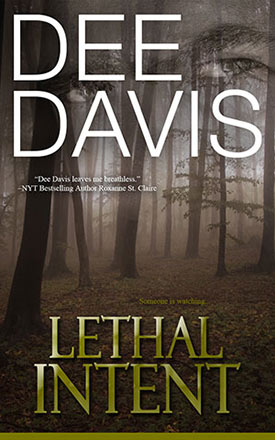 Liar's Game Series, Prequel Novella
January 2016
In e-book
Everything has to begin somewhere…
Conner Fitzgerald made the biggest mistake of his life when he let high-school sweetheart Jenny Tate walk out of his life. Now he's back, and hoping they can make a new start. But first he'll have to stop the man who's trying to kill her.
College students Reece, Nick, Matt and Travis have only two major goals: partying and pursuing women—until the night Jenny Tate disappears.
Lethal Intent—a short prequel novella for Dee Davis's Liar's Game Series.
Laurence McGuire fisted one hand, glaring at the open window.  She'd lied to him.  Told him that she wasn't interested in the dance.  That she wasn't interested in dating anyone.  But he'd heard her just now.  Worse, he'd seen her.  With him.
He moved deeper beneath the protection of an overgrown rhododendron, his stomach churning, rage boiling to the surface with heated intensity.  He'd believed her.  Believed she was different.  And yet, just beyond the damned window she was screwing someone else.  He'd heard her cry his name.
Connor.
He clenched his other fist.  If he had his gun here, he'd take the bastard out right now.  She belonged to him.  She'd made it clear, hadn't she?   She'd chosen him as her study partner.  Sat by him in classes and shared her notes.  She'd smiled at him.  Touched him.  On more than one occasion.
Maybe she was just distracted.  Or confused.  Women had trouble dealing with their emotions.  Maybe she'd just lost sight of what was truly important.  Still, there was no denying what he'd witnessed.  She'd taken the bastard inside her.  Writhed with him on her bed.  Laurence's body had hardened at the sight, rage and lust twining together to make a mockery of his feelings for her.  And hers for him.
He never should have trusted her.  Or believed in her.
He shifted again, moving into the bushes surrounding the window.  Hunkering down, he lifted his head until his eyes just cleared the sill, his gaze riveted once more on the couple still moving together on the bed.
His gut clenched tighter, blood pounding in his head.  He'd have to teach her a lesson.  Remind her who she belonged to.  And if, after possessing her, she still rejected him, then, like the others, she'd have to die.
But first…
His lips widened into a twisted smile, anticipation tightening his groin.
First, he'd wait and watch. 
Excerpt from LETHAL INTENT by Dee Davis, Copyright ©2016 by Dee Davis. All rights reserved. Reprint only with permission from author. Please contact dee@deedavis.com.
JOIN DEE'S MAILING LIST AND GET THIS E-BOOK FOR FREE!