Thunder Rolls (episode 8, season 1)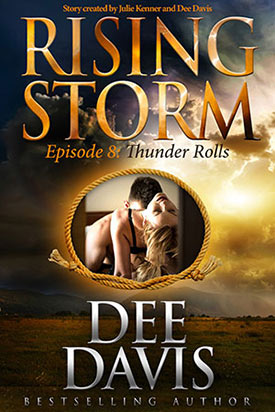 Rising Storm Series, Episode 8, Season 1
Evil Eye Concepts
In e-book and print 2015
Secrets, Sex and Scandals …
Welcome to Storm, Texas, where passion runs hot, desire runs deep, and secrets have the power to destroy… Get ready. The storm is coming.
As Hannah Grossman grapples with the very real possibility that she is dating one Johnson brother while secretly in love with another, the entire town prepares for Founders Day. The building tempest threatens not just Hannah's relationship with Tucker and Tate, but everyone in Storm as dire revelations threaten to tear the town apart.
Reading like an on-going drama in the tradition of classic day and night-time soap operas like Dallas, Dynasty, and All My Children, Rising Storm is full of scandal, deceit, romance, passion, and secrets.
With 1001 Dark Nights as the "producer," Julie Kenner and Dee Davis use a television model with each episode building on the last to create a storyline that fulfills the promise of a drama-filled soap opera. Joining Kenner and Davis in the "writer's room" is an incredible group of New York Times bestselling authors including Lexi Blake, Elisabeth Naughton, Jennifer Probst, Larissa Ione, Rebecca Zanetti and Lisa Mondello who have brought their vision of Storm to life.
Get ready, the Storm is Coming…
For more on Rising Storm check out http://risingstormbooks.com.
"OMG! Dee Davis packed a helluva punch with this episode! She broke open a few huge scandals and secrets that left the residents of Storm scrambling. This was the perfect way to leave us hanging in a season finale!"
~ Love Affair with Fiction
"It's a wonder we ever get anything done."  Hannah Grossman grinned at her sister as the final organizational meeting for the Founders Day Celebration broke up and the two of them rose from their seats in the parish hall.
"Between Marylee and Senator Rush's posturing and Marisol and Rita Mae arguing over pies, we're lucky we're having an event at all," Joanne said.
"Well, thanks to your help, I've got a feeling everything is going to come out fine."  Hannah paused as Tara Daniels waved for her attention.  "Marylee should be thanking her lucky stars."
Her sister had worked her ass off to make things move smoothly for the Founder's Day celebration.   Although Hannah couldn't help but think that the appointment had done as much for her sister as it had for Marylee Rush.  In the wake of her husband's defection, Joanne had bloomed, a shadow of the fun-loving girl she'd used to be making an appearance.
"Goes both ways," Joanne said.  "I need the money. And working for her hasn't been nearly as difficult as I expected it to be.  She's actually kind of nice—in a starchy sort of way."
Hannah laughed and squeezed her sister's arm.  "I'll see you at the festivities?"
"You'd better be there.  I'm counting on you.  For moral support if nothing else."
Marylee gestured for Joanne and the sisters parted, Hannah making her way past the Pragers and Marisol—still deep in discussion about crusts and fillings—over to where Tara was standing.
Most of the women in town had made the meeting.  Some because they truly wanted to help and others because, quite honestly, they were afraid of Marylee Rush.  The town's grand dame might have pulled the wool over Joanne's eyes, but Hannah knew when to call a spade a spade, and Marylee only cared about one thing—her sainted son and his never-ending quest for political stardom.
And Storm's Founders Day festival was the perfect vehicle to move forward his ongoing campaign.  Truth be told, politics and all the side-stepping that it entailed left Hannah cold.  Same for committees and meetings.  If it hadn't been for her mother's insistence and her sister's need for support, Hannah would have skipped the whole damn thing.  Give her a herd of sick cows over a society get together any day.  At least with the cows you could always be pretty certain of where you stood.
Shaking her head, at her own whimsy, she dismissed all thoughts of the Rushes as she broke free of the milling women to stop in front of her friend.  Tara's normally pretty face looked a little drawn, her eyes tired and the corners of her mouth pinched.  Dealing with two growing children wasn't an easy task under any circumstance, but when you added in the fact that one was autistic and the other acting out, it meant long hours and sleepless nights.
"Wasn't sure you'd be here today," Hannah said.  "Does that mean things are better at home?"
Tara face flushed.  "Nothing miraculous or anything, but I think maybe Bryce has turned a corner.  Or at least he's trying to, anyway.  And that's a start, right?"
"Absolutely. As long as the two of you have each other you can handle anything."  Hannah felt a surge of jealousy, surprised at the intensity of the emotion.  It wasn't as if she didn't have someone.  Tate Johnson was a good man.  It's just that if she were honest, she'd never really felt like they were a team.  Not the way Bryce and Tara had always been.
"From your mouth to God's ears." Tara smiled as her sister-in-law, Kristin, joined them. 
"I'd have thought you had a direct line," Kristin said, her smile not as bright as usual.  "I mean, what good is it having a pastor for a husband if not to give you immediate access."
"Sadly, I don't think that's the way it works," Tara said, her dark eyes studying Kristin.  "You okay?  You looked tired."
Kristin shrugged.  "Just late nights working on the festival.  Plus a few extra party gigs.  The Rushes are having a cocktail party for some of their high rolling friends attending the festival.  And the Vonderstrausses are having a BBQ to celebrate Loretta's return to the fold."
"I heard she was back in town," Hannah said.  "I can't believe they actually managed to extricate her from the cult. Somewhere in California, right?"
"Yeah, scary stuff.  Makes the problems with my kids seem like nothing."
"Maybe not nothing," Kristin laid a comforting hand on Tara's arm.  "But better than Hari Krishna or whatever it was.  I heard she shaved her head."
"These days that's not that unusual," Hannah laughed, flipping her long braid over her shoulder.  "I saw a kid the other day with the word 'no' shaved into the backside of his head."
"At least he's taking a position," Tara said.  "And besides I remember when you died your hair black, made like a member of the Adam's Family and ran off to that Marilyn Manson concert.  Scared your momma to death if I remember right."
"Yeah, well, it was your momma who called my momma to tell her what I was up to."
"It wasn't my fault you left me a note in my front hallway and she found it before I did."
"True enough," Hannah laughed.  "And I did survive."  She waved the tip of her braid.  "Hair and all.  And fortunately, my mother never found out about Skip Matheson."
Tara gave a little shudder.  "That would have been the end of the world as we know it."  She looked over to Kristin.  "Skip was a really bad boy."
"But oh my God, was he pretty."  Hannah smiled remembering.  "Still, he was definitely trouble.  And after that night, I steered clear."
"After that night you were grounded for a month."
They laughed together and Kristin sighed, looking wistful.  "I wish I'd had a mother who cared enough to ground me.  Or friends like you guys to remember my past."
"You have us now," Tara said, linking her arm with Kristin.  "And if you like, we can even hook you up with Skip Matheson.
"Except," Hannah said, coming to Kristin's other side as the three of them walked from the parish hall, "Skip isn't exactly pretty anymore."
Tara grinned at the two of them.  "Prison will definitely do that to a man."
Excerpt from Thunder Rolls by Dee Davis, Copyright ©2015 by Dee Davis. All rights reserved. Reprint only with permission from author. Please contact dee@deedavis.com.